Celebrate your curves with our luxury Breast Tape, Dresses, & Shapewear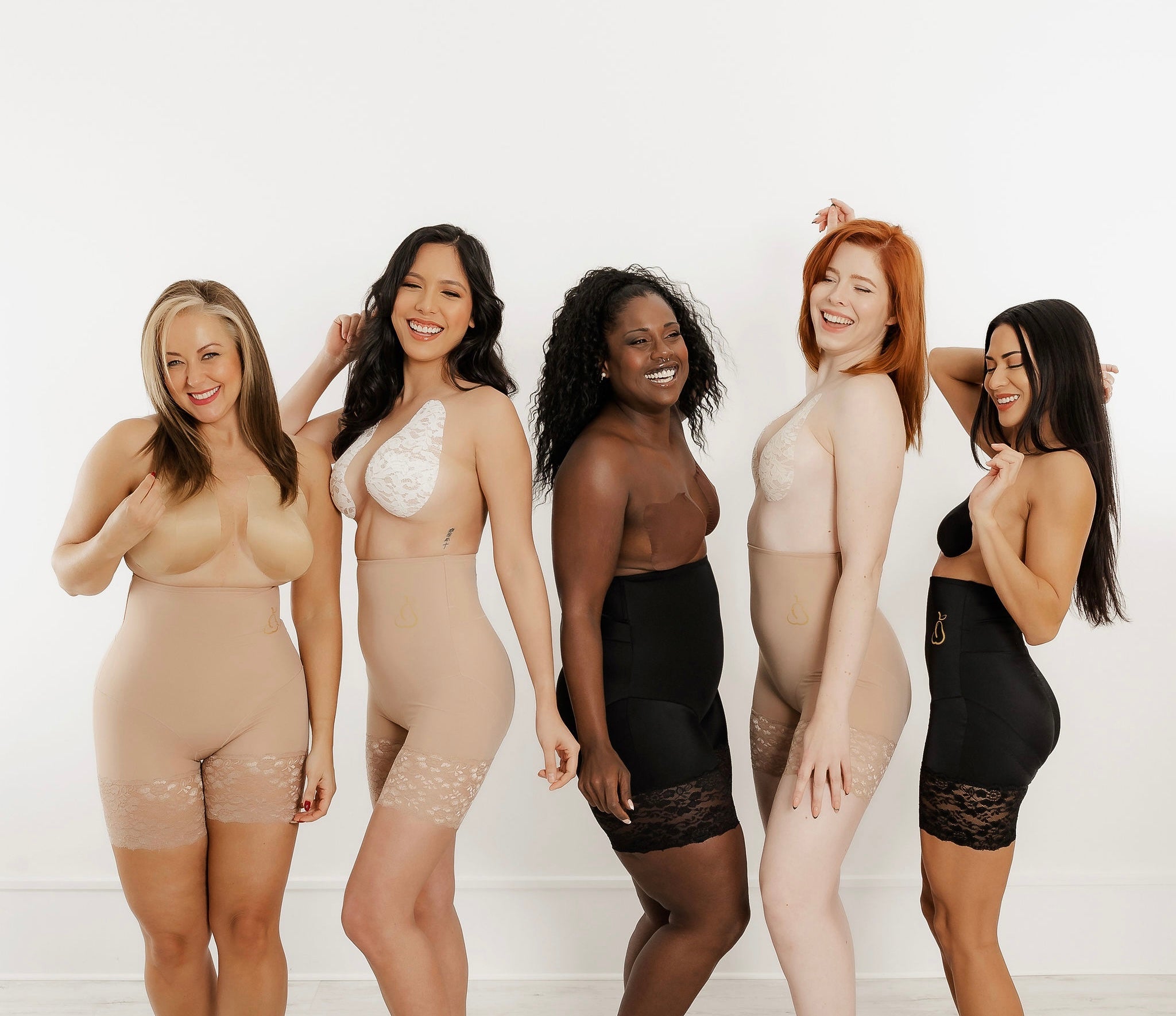 Wear Anything
With Confidence
Celebrate your curves with our luxury Breast Tape, Dresses, & Shapewear
BLACK FRIDAY DEALS LIVE NOW Add your items into cart and insert your discount code in at checkout. Codes are valid until November 27th 2023, at 11:59PM EST.
Finally, a breast tape that is as beautiful as you!
Our Luxury Breast Tape is customizable to your body and neckline, allowing women to feel supported, and confident, while wearing styles we love.
★★★★★

I wore these for my wedding and they worked out amazing! I love that you can trim them to size to make them customizable for any dress style. I danced all night and they were still in place. They honestly exceeded my expectations!!.

Nicole
★★★★★

"I grew up in the dance world and on stages. The costumes I would have to wear as a developing young girl did not allow for bras and bra straps to be worn on stage while dancing. We literally duct taped ourselves down to get the lift and support that we needed. Because of this, I have always lacked elasticity in my skin on my chest. After breastfeeding I lost any fullness I had. I literally feel like I have 2 deflated balloons on my chest. Which is fine. I love myself and have worked hella hard to love evert part of my body. But the FREEDOM and confidence that My Perfect Pair allows me to feel is NEXT LEVEL when I have it on . I don't know that I've EVER felt this supported in a bra. If I could wear this every day, I 100% would."

Jess S.
★★★★★

"I just wanted to reach out and tell you that I tried My perfect pair breast tape today and it is LIFE CHANGING! I'm a DDD 40 and I've never been able to find a strapless bra that I could tolerate. I had my doubts about an adhesive bra because any that I've tried in the past were total failures. MPP totally worked for me though! They are comfortable and they listed the whole day without budging. I'm so impressed! I wore a spaghetti strap dress for the first time in my life without bra straps showing and I felt so free! Thanks for making such an incredible product. I will def be ordering more and I'll be telling all of my friends!"

Christina S.
★★★★★

I was finally able to wear my favourite dress out that was low in the front & not have to worry about readjusting and having fun! I felt secure and confident all evening!

Kaitlyn G.
★★★★★

Thank you so much for changing my life with these! These are absolutely amazing! Recommending to everyone. I am very heavy chested and these gave me the lift, shape, & Cleavage I've always dreamed of.

Katie
★★★★★

I cannot recommend this product enough! Having 30E bra size has always made bra shopping difficult, and strapless bras have never worked for me. My Perfect Pair has
allowed me to easily and comfortably wear the spaghetti strap & strapless tops that I have been dying to wear for years! Thank you!

Kayla G.
★★★★★

"I just wanted you to know I wore my set for the first time Saturday to a wedding. They were AMAZING. I couldn't get over my cleavage and how comfortable they were. I trimmed them to match my neckline which was super easy. I wore one set and a strip and I just can't say enough. I was getting my hair done in the morning and told every one about them in the salon haha"

Jaime
★★★★★

"My perfect pair was PERFECT for my Wedding Day! I wouldn't have been able to wear my low back without them.

Thank you."

Alicia
★★★★★

"I just wanted to say I LOVE your product! I wore a pair on my wedding day and it lasted all day! I felt supported and didn't have to worry one bit!."

Kelsey
Join us on Instagram @my.perfectpair to be the first to see new products, promotions, tutorial videos, tips, and style hacks.
Be Anything
Look good and feel great.
My Perfect Pair will give you the confidence and comfort to be anything, wear anything and do anything.
Do Anything
Dance, swim, love, laugh... your Perfect Pair will take you anywhere. Sweat proof, dance proof and waterproof, they're long-lasting to hold you through the biggest days.
Wear Anything
Been dreaming of wearing strapless dresses, backless tops and spaghetti straps? With My Perfect Pair, you'll find the hold and support to wear anything!